Located on the first floor of the Country Relais, this room with its simple and minimal décor will make you feel protected and nested in a small retreat – just like a den in the woods of unpretentious and delicate beauty.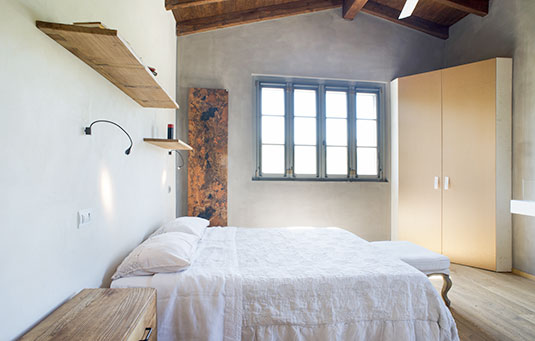 A retreat in the woods
25m2 / 2 people
The sombre tones of beige and the bold brown of coffee grounds perfectly match the other elements: the white fireplace, the contrasting copper doors, and the wood bestowing warmth to the whole bedroom. The wooden flooring makes the ambience even more intimate, and the wide windows offer a splendid view over the hills. It's reachable through a lift, also suitable for disabled people, and is equipped with a fan.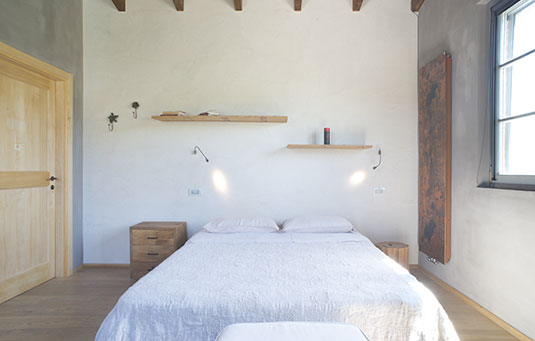 Tariffs 2022 – 2023
(Price per room per night)
October 2022 – April 2023
2 PEOPLE
€125
1 night + vegan breakfast
1 PERSON
€105
1 night + vegan breakfast
May-September 2023 (Minimum two nights)
2 PEOPLE
€125
1 night + vegan breakfast
1 PERSON
€105
1 night + vegan breakfast
Vegan Cuisine
Our restaurant
in the hills of Le Marche …
Breakfast
We provide a rich selection of hand cooked products to choose from: home baked pies, jams, fruit salads, and croissants. Breakfast is served in the restaurant or in the veranda overlooking the garden…
The Restaurant
Our strength are our zero metres ingredients. Yes, you read it rightly – not zero kilometres but zero metres! We started with a vegetarian cuisine. A few years later, we moved to vegan cooking…