The largest of the Country Relais, the fabulous Poiana room is on two levels with a mezzanine area: on the ground floor there are two twin beds, on the upper level the double room has a raised futon bed and exposed wooden beams.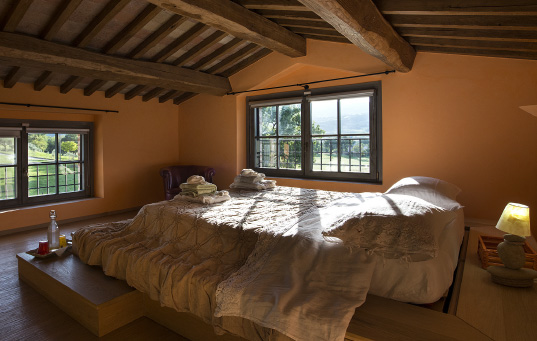 A Suite for the whole family
60m2 / 2-4 people
With one en-suite bathroom and a slightly steep stair, it should be noted that the mezzanine area is mt.1,80 high. Wooden floors and furniture in sombre tones convey warmth to the interior décor and a relaxing and welcoming sensation to the whole flat. Suitable for a family or a small group of friends. It is equipped with fan.
Tariffs 2022 – 2023
(Price per room per night)
October 2022 – April 2023
4 PEOPLE
€240
1 night + vegan breakfast
2 PEOPLE
€140
1 night + vegan breakfast
1 PERSON
€120
1 night + vegan breakfast
May – September 2023 (Minimum two nights)
4 PEOPLE
€240
1 night + vegan breakfast
2 PEOPLE
€140
1 night + vegan breakfast
1 PERSON
€120
1 night + vegan breakfast
Vegan Cuisine
Our restaurant
in the hills of Le Marche …
Breakfast
We provide a rich selection of hand cooked products to choose from: home baked pies, jams, fruit salads, and croissants. Breakfast is served in the restaurant or in the veranda overlooking the garden…
The Restaurant
Our strength are our zero metres ingredients. Yes, you read it rightly – not zero kilometres but zero metres! We started with a vegetarian cuisine. A few years later, we moved to vegan cooking…